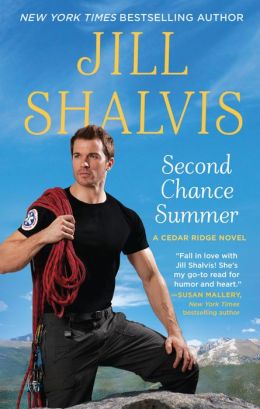 Second chance summer by Jill Shalvis
Release date: June 30, 2015
Publisher: Grand Central Publishing
Buy or borrow: BUY
Synopsis: RESCUE ME
Cedar Ridge, Colorado, is famous for crisp mountain air, clear blue skies, and pine-scented breezes. And it's the last place Lily Danville wants to be. But she needs a job, and there's an opening at the hottest resort in her hometown. What has her concerned is the other hot property in Cedar Ridge: Aidan Kincaid-firefighter, rescue worker, and heartbreaker. She never could resist that devastating smile . . .
The Kincaid brothers are as rough and rugged as the Rocky Mountains they call home. Aidan has always done things his own way, by his own rules. And never has he regretted anything more than letting Lily walk out of his life ten years ago. If anyone has ever been in need of rescuing, she has. What she needs more than anything are long hikes, slow dances, and sizzling kisses. But that can only happen if he can get her to give Cedar Ridge-and this bad boy-a second chance . . .
My Thoughts: I'm a huge fan of Jill Shalvis and I had high hopes for this series and it did not disappoint! I was pretty much hooked by the end of the first chapter.
Lily Danville left Cedar Ridge after a tragic accident with her sister, Ashley, She packed up and moved to San Diego to start over and got an awesome job at a high-end salon, leaving Aidan Kincaid behind after they shared a hot kiss. After being fired from her job, Lily returns to Colorado to work at a salon while searching for a new job somewhere else.
Aidan kincaid does it all, firefighter, search and rescue, and he helps to keep his family's resort afloat. Ten years ago he shared a moment with Lily and then she fled. Aidan is determind not to let her get away so fast this time.
The chemistry between Lily and Aidan was intense. Lily had a lot of guilt to overcome with what happened to her sister and Aidan was the one who helped her through it all. I love the kincaids and I really can't wait for the next book in this series.